The perfect table for the garden - which one to choose?
The perfect table for the garden - which one to choose?
If you like to spend hot months outdoors, then you are undoubtedly served outside. Perhaps you are a fan of summer garden parties, casual evening barbecues or elegant events under the cloud. Regardless of what events you organize most often, a garden table is the focal point of each of them. Its appearance and functionality can not be accidental. Check what to look for, choosing the perfect garden table. Strong>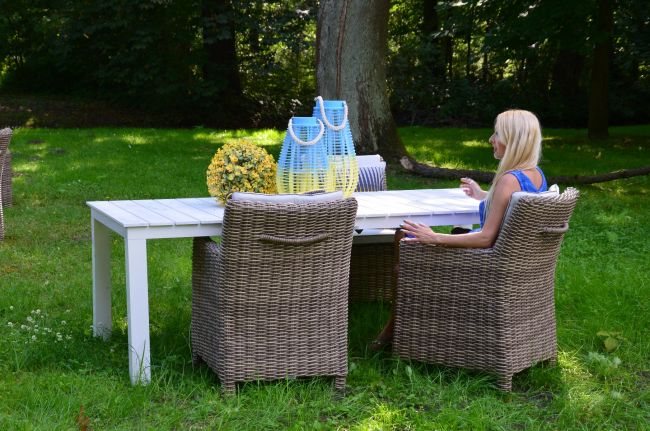 Ideal garden table, that's what? h3>
Of course, there is no one garden table model strong> that will be perfect for any garden. That is why, before you start searching, you should consider your expectations well.

Analyze the look and layout of your garden strong>, try to determine exactly where you will put a new piece of furniture. Pay attention to the substrate - is it soft grass, paving stones, tiles or a wooden garden floor? Look at other architectural elements that are nearby. Think about the style in which the table should be in order to fit perfectly into the space. Should it be classic, rustic, minimalist or maybe modern?



If you have a large amount of space to use, you can consider buying a round garden table strong>. Otherwise, when there is not too much space, put on a classic, rectangular table that will not overwhelm the arrangement of the garden. Interesting models of both round and rectangular garden tables, you will find in Miloo Home's offer .

Features that every perfect table should have, regardless of the aesthetics, are the stability (garden party at the shaky table is a bad idea) and resistance to weather conditions, especially rain and sunlight. />
The size of the garden table h3>
It is estimated that one person sitting at the table should have a space of at least 60 centimeters to feel comfortable. Think about how many people you usually have in your garden and multiply their number by 60 centimeters. The result you get will be equal to your ideal garden table.



Garden table - what material? h3>
The most universal material that fits almost any garden is wood. Alder, oak and pine tables made of exotic wood varieties have been considered classically beautiful for years. You must remember, however, that they require regular maintenance that will protect the wood from harmful external factors.

Extremely popular alternative in recent years for wood is ekorattan strong>. Garden tables made of it look extremely stylish, are resistant to sunlight, and in addition, thanks to their light weight, they can easily be moved.

An interesting solution is also garden tables made of metal (aluminum, steel or cast iron). They look very modern and are easy to clean, but require careful maintenance and regular protection against rust.