The effects of the Nepal earthquake on UNESCO monuments
The effects of the Nepal earthquake on UNESCO monuments
The Saturday earthquake in Nepal, with a magnitude 7.9 on the Richter scale, has already claimed over 5,000 people, and the final number of bodies found can reach up to 10,000.
One of the areas most affected by the earthquake is the capital of Nepal - Katamand. In this city with a million inhabitants there are numerous rescue operations, where teams from many countries try to find survivors under the rubble of destroyed homes.
Tens of thousands of people spent the last nights in the open, afraid of secondary shocks, or unable to return to destroyed homes.
Nepal will be hard to shake off after this tragedy, which, in addition to thousands of victims, also affected many monuments in this area.
Dharahara Tower: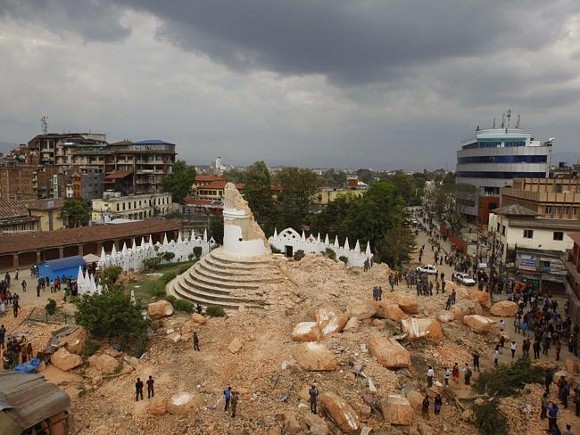 Bhaktapur Durbar Square:
According to the BBC data, at least 7 buildings inscribed on the UNESCO World Heritage List were destroyed, most of them were old temples and towers.
One of such towers is the Dharahara Tower, built in 1832. The building collapsed a few seconds after the start of the quake, according to unofficial sources, there were many people in it, and 180 bodies were found under its rubble.
Dharahara Tower:

A full list of buildings affected by earthquakes:
- Kathmandu Durbar Square - numerous buildings on the square that have been completely destroyed
- Patan Durbar Square - several buildings from the 3rd century were destroyed
- Bhaktapur Durbar Square - the main temple on the square has lost its roof, and the second, the sixteenth century temple was completely destroyed
- Swayambhunath Buddhist Temple Complex - declining destruction
- Boudhanath Buddhist Temple Complex - destroyed significantly, however the main dome survived
- Pashupatinath Hindu Temple Complex - survived the quake virtually undamaged
- Changu Narayan Hindu Temple Complex - delicate damage.
Taleju Temple:
Kathmandu Durbar Square:

Patan Durbar Square:
Trailokya Mohan Narayan Temple:

Vatsala Shikhara Temple:

Brian Dawson for The New York Times Niranjan Shrestha/Associated Press Omar Havana/Getty Images Narendra Shrestha/European Pressphoto Agency